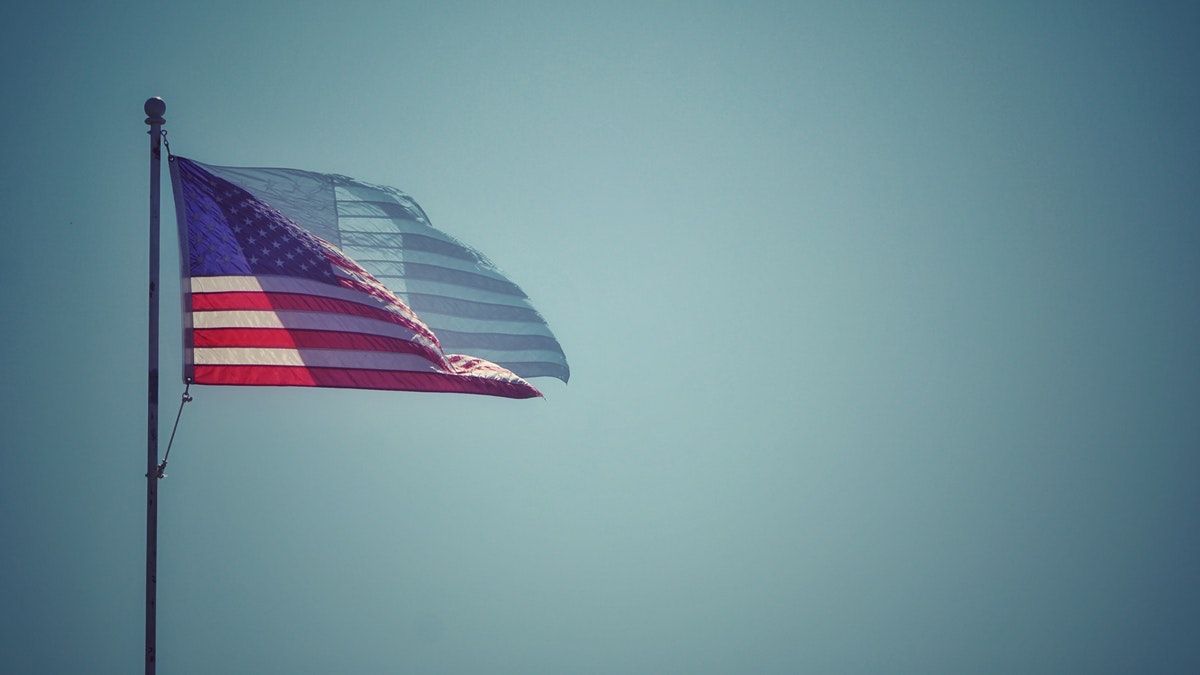 A place worth fleeing
Compassion isn't just for new immigrants coming in; citizens leaving deserve it too.
Progressives are pretty good about expressing compassion for migrants making their way into their country. The feeling, however, often doesn't extend to migrants leaving.
Progressive writer Rebecca Solnit published a Facebook post taking aim at American expats choosing to leave the turmoil of the United States behind. I finally figured out why it bothers me as much as it does: I never expected nationalism from her side of the political spectrum.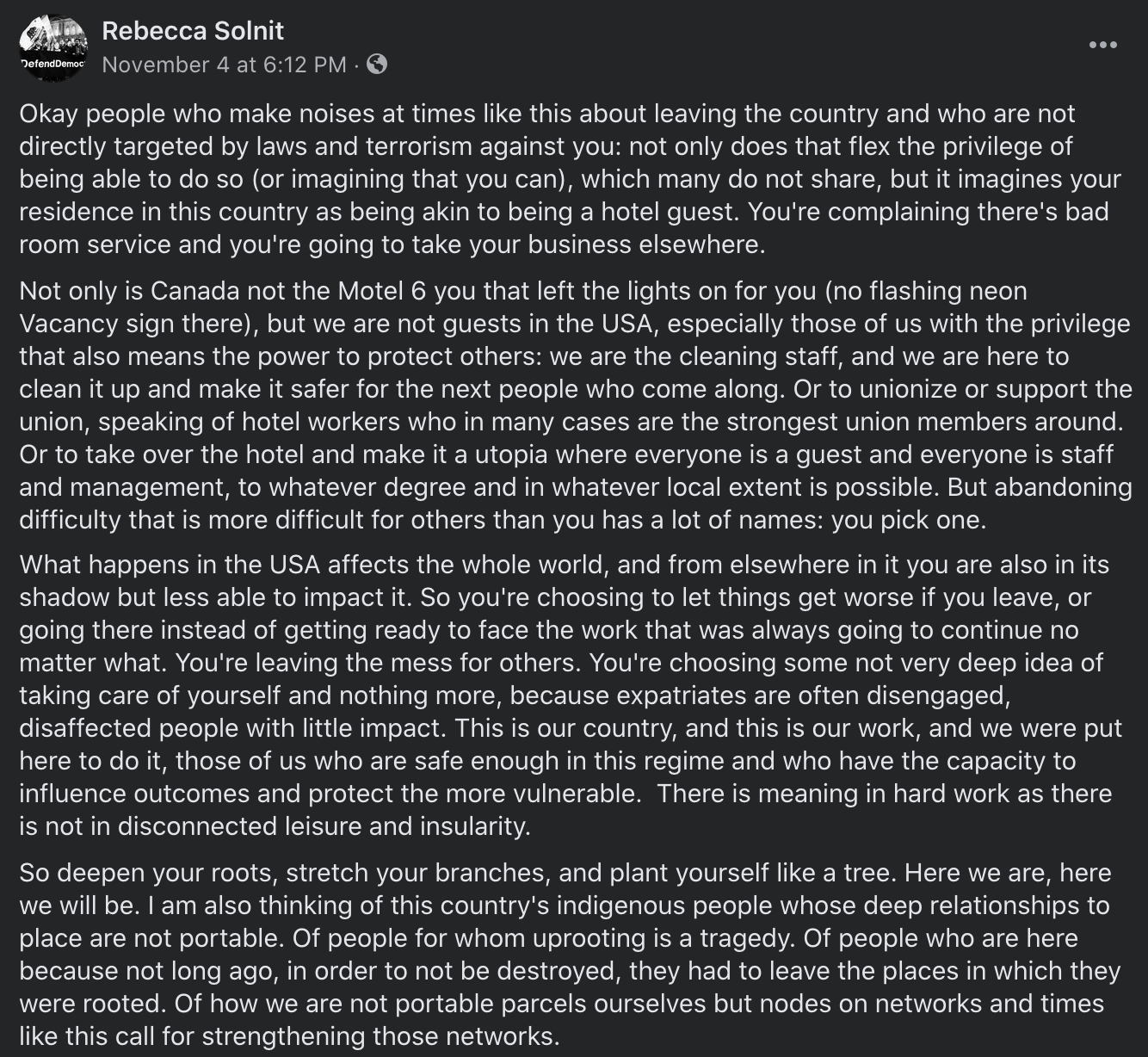 Let's first address the most offensive sentence here: "Expatriates are often disengaged, disaffected people with little impact." You can no more say this about expats than about immigrants, women or any other group. We're talking about hundreds of millions of people here, some deeply engaged, some not. Throughout history, domestic resistance movements have lived or died on the strength of their diaspora. So no thanks to the sweeping generalization. As one Borderline reader put it, this is "the more literate, softer version of 'when Mexico sends its people, they're not sending their best.'"
Solnit makes two good points: It is laudable to stay put and fight to improve your country, and it is a privilege to be able to choose migration. It is particularly gross to witness wealthy people assume they can move wherever they like; we were talking about that on the podcast just last week. But like it or not, privilege and migration go hand in hand. With the exception of refugees thrown on the roads by war or famine, immigration is a middle-class+ phenomenon. Getting out and starting over takes resources.
So should you stay just because others can't afford to go? Solnit ignores one kind of privilege that is invisible – mental health. I will not throw stones at people who simply can no longer stand to live where they are, whatever their material situation. We all have different pain thresholds. But beyond that, she raises a vital question: Where does loyalty end? Would you maintain a relationship with an abusive family just because they raised you twenty years ago? If you have children, do you owe them a peaceful childhood more or less than you owe your country your fight? Those are hard questions asked by whole people. They deserve more than to be dismissed as disengaged traitors to the nation.
Solnit seems to assume that your energy belongs to the country whose passport you hold, more than to any other community in which you might make a home, to your family or to yourself. That position is not necessarily false, but let's call it what it is  – nationalistic. It may however come from a place of hurt for which I will not blame Solnit or her tens of thousands of approving followers – the realization that one's own home could now be for some, a place worth fleeing.
Learn more: Two recent Borderline episodes exploring these ideas in more depth than a Facebook rant.
---
Next on Borderline
Coming up on the podcast this week (tomorrow if you're a Patreon member!) is an episode I cannot wait to share with you, about fitting in as an immigrant, limiting beliefs and shame. We went deep.
If you want to share your own global citizen story on the podcast, or recommend a guest, please just reach out. I am always looking.
---
News from the global citizenry
I have a well-worn soapbox I stand on to talk about lack of global perspective in Silicon Valley. Amazon just gave me an excuse to pull it out again by accidentally proclaiming a reunited Ireland, and then remaining completely sarcasm-proof. Stay for the replies.
---
In my inbox
This week's recommendation is Lauren Razavi's Counterflows. This newsletter is a tight, always pitch-perfect collection of reading recommendations to feed your curiosity about the future of work and global living.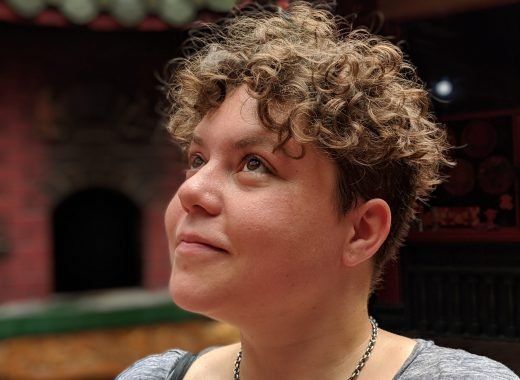 This week, Lauren is looking to speak with people who will be exploring remote work and slow travel in 2021. (If the UK doesn't give me my settled status, that'll be me.) If that's you, get in touch with Lauren.
---
From my commonplace book
(A quote or story I've collected somewhere)
Alessandro Galilei, a Florentine architect, won the 1730 contest to design the Trevi fountain in Rome. But the good people of Rome were outraged that a foreigner would get the job, so it went instead to second-placer Nicola Salvi, a Roman. Immigrants get the job done – if you let them.
📬 Subscribe to the newsletter | ⭐️ Support on Patreon | 🍎 Listen on Apple Podcasts | 🎧 Listen on Spotify | 📺 Watch on YouTube | Everywhere else: www.borderlinepod.com
Hey, you read to the end!
Don't miss future articles like this one; let me into your inbox.
---