Beyoncé, Nicolas Cage and the 1335 other people worthy of fast-track UK immigration
An immigration system that promises to reliably pick winners can only pick those who've already won.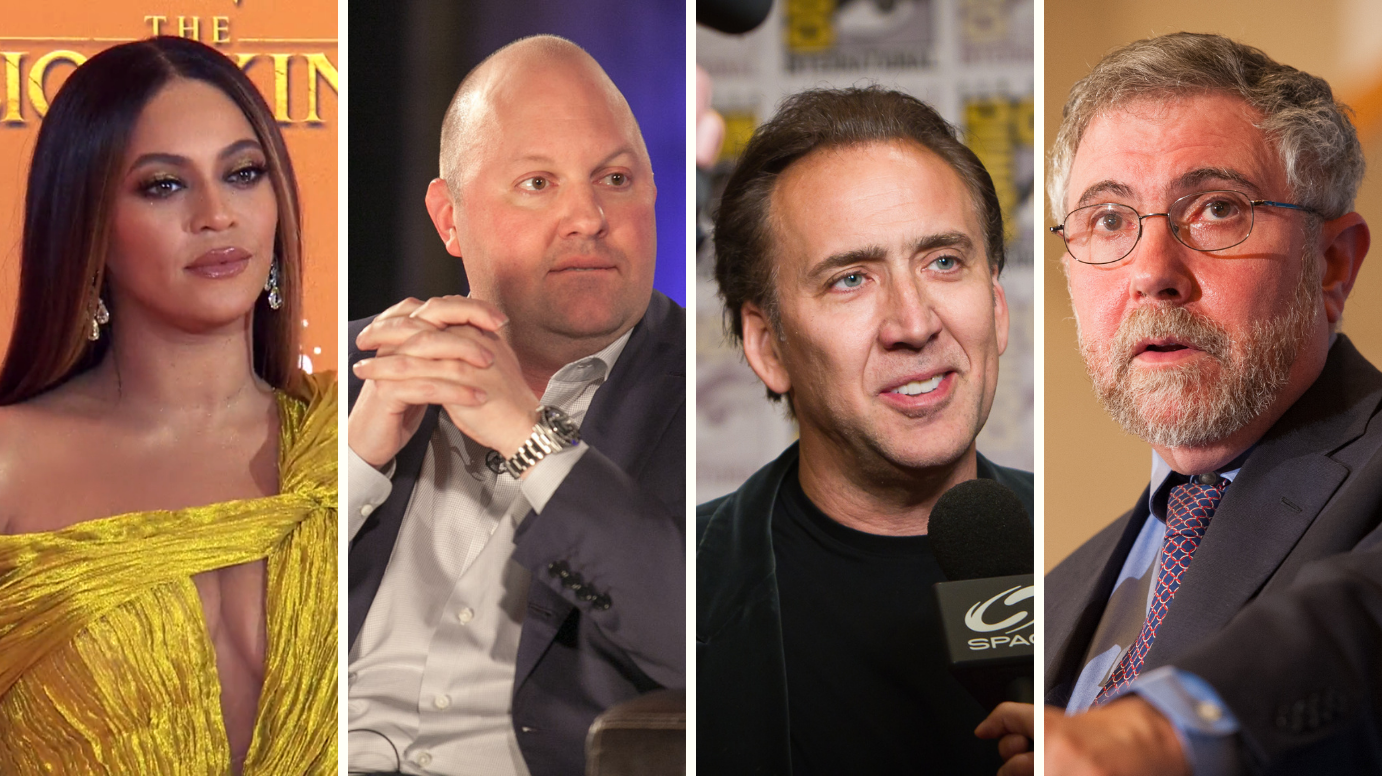 When the UK Home Office announced a fast track immigration route for the winners of notable prizes, I thought I'd look into the criteria to paint a picture of the kind of exceptional people worthy of velvet-rope entry into British society. It turns out the criteria are so narrow, I don't need to paint a picture. I can give you their names.
Beyoncé, Nicolas Cage, technologist Marc Andreesen or economist Paul Krugman are among roughly 1337 people* who could live and work in the UK based on prestigious awards they have received. The list, which I assembled through much googling, is 74% male, overwhelmingly white, American and grey-haired. It reveals the major challenge in so-called "best and brightest" policies: An immigration system that promises to reliably pick winners can only pick those who've already won.
Some background: Winners of a few prestigious prizes can now apply for a Global Talent visa without the endorsement of an approved industry body, such as Tech Nation or Arts Council England. It spares them having to put together a dossier demonstrating their credentials and saves the approved endorsing organizations from reviewing an application that is such an obvious yes.
That would save the applicant anywhere from six weeks to six months, says Nick Gore, a solicitor with immigration law firm Carter Thomas, who often prepares these complex applications. "The Home Office have appreciated that the quality of the prizes mean an endorsement application is bound to succeed – this essentially makes the endorsement process relatively pointless," he adds. "Instead, for the Home Office, it makes sense to see the awarding body as another safe and reliable organisation that can effectively endorse the applicant."
The list is 74% male, overwhelmingly white, American and grey-haired.
The policy is a no-brainer. But presenting it as a way of "attracting the best and brightest," as a beacon of the new points-based immigration system, as Home Secretary Priti Patel did again on Monday in her speech to the Bright Blue conservative conference, is misleading. I'd be surprised if the prestigious prize route brings even a handful of people into the country long-term. That's because it is designed not to take chances.
The toughest grader there ever was
The Home Office established the list of qualifying prizes with endorsing bodies, but even the most demanding immigrant parent would find the bar a little high. You'll get in with a Nobel Prize, but not the Peace one. Some Academy Awards count – neither of Brad Pitt's two wins do though. With the Grammys, only a lifetime achievement award will do. "You can sense the dichotomy of the Home Office," Gore explains. "On the one hand wanting applicants to be judged by those that know the route best and to open the route up for those who will make significant contributions to the UK. But on the other, having an inbuilt nervousness (or paranoia) about the route being too 'soft' or being open to abuse."
Not included: the Booker Prize, Cannes' Palme d'Or, the Pulitzer Prize, the Emmys, the MacArthur Fellowships... Chimamanda Ngozi Adichie, Margaret Atwood or Michael Haneke still need to prove their worth.
A desperately Anglo list
Some prizes on the list reward almost exclusively people who are already British. All come from the English-speaking world. Britain's Olivier Awards count, but not their French equivalent, the Molières. Hollywood's Academy Awards, but not Bollywood's National Film Awards. The most egregious is probably dance's Bessie Awards, for which one must perform in New York City to even be eligible. Apparently, nobody worth their salt dances in Moscow or Buenos Aires.
This results in a list that is overwhelmingly American. Are we to believe that British industry cannot certify the standards of foreign prizes? Or that only Anglos have something to contribute to British culture?
Alexa, is that guy still alive?
My biggest task in establishing this list was checking whether each laureate was even still alive. When you filter by the kind of skill that takes a lifetime to build, you get a lot of brilliant, grey-haired people. I spotted at least two 94-year-olds. The worst was the Grammy Lifetime Achievement Award, which is more often than not only granted when that lifetime has run out.
Migration is a young person's game. Many if not most people eligible for a fast-track Global Talent visa are simply not at a life stage when they're likely to want one.
When has an awards list ever accurately represented an industry?
There are three men for every woman on the list. It is also blindingly white. In the academic fields, 92% of those deemed worthy are men. In tech, there are more eligible Roberts than eligible women. Two of the awards considered (the Academy Award for best cinematography and the Queen Elizabeth Prize for Engineering) have never even gone to a woman, reason enough to stop taking them seriously if you ask me. Only dance and visual art categories are gender-balanced and about two-thirds of women on the list are there thanks to gendered acting awards. Only dance and the inclusion of one MOBO (music of Black origin) award add a smidgen of diversity.
None of this is technically the Home Office's fault, except that it has bought into the notion that the award system we have is an efficient way to spot talent and a fair way to reward it. That's how they end up with a list of people who are neither who would want to move here nor who the country needs. It can't exactly hurt, but it also doesn't help – except for comms to an unquestioning public.
Immigration policymakers should think more like venture capitalists
The prestigious prize route is anecdotal. There are other ways to get a Global Talent visa, and other visas aimed at bringing promising professionals to the UK. What it highlights though is the inherent tension in building a talent-based immigration system.
Forget humanitarian reasons, diversity, liberal principles... We're talking here about immigration as an investment in human infrastructure, much like education and healthcare. The country wants to bring in the best human capital that will make significant cultural, societal and economic contributions. But how do you identify it from a desk in Westminster? That's where these prestigious awards – or envelopes weighing several pounds of reference letters and press clippings assembled over months – come in.
Potential is hard to spot and harder yet to fulfill. That's something venture capitalists have learned. They make 100 bets hoping a handful at least pay for themselves and one is a true blockbuster. Get too risk-averse and you'll miss the big ticket. You need to recognize patterns of success but be bold enough to think beyond them.
Allowing only the most demonstrably successful people to immigrate to your country is like investing in Apple today. Sure, the stock might still go up and you're not taking much of a risk. But the real money went to those who took a chance 20 years ago.
If we want to attract a 2050 Nobel Prize laureate, we need to accept we'll also take in hundreds who won't be. And who knows, they might have something great to contribute anyway.
---
The list of eligible awards is here.
Methodology: I've obtained this information through Wikipedia or the various awards' websites. Corrections are welcome. I've endeavoured to remove any deceased laureates or British citizens, as well as dedup anyone who showed up more than once. There were many. Some people here may well already be British residents or be able to obtain residency through other means. That's beyond this scope.
The total number of 1337 is somewhat approximative for another reason: several musical laureates are bands. While I at first attempted to list individual band members, I gave up at Jefferson Airplane. I leave it to the fine folks at the Home Office to decide who qualifies as a legit band member and who's an occasional backup. Good luck with the Blind Boys of Alabama, who have performed with varying lineups since 1939.
Gender identification is as accurate as Wikipedia allows. I didn't have the data to get into other categories such as nationality – beyond noticing it's almost always Americans – race or gender identity but you get the gist: this list is extremely not diverse.
Winners of the Dorothy and Lillian Gish Prize are listed in their respective fields. Writers are found in both Stage & Screen and Scholarship.
Photos: Nicholas Cage by G155 licensed under CC BY-SA 2.0, Marc Andreesen by JD Lasica via Wikipedia licensed under CC BY 2.0, Beyoncé via Wikipedia licensed under CC BY 3.0, and Paul Krugman by commonwealth.club  licensed under CC BY-NC-SA 2.0
Stage & Screen (Oscars, Baftas, Golden Globes, Tonys, Oliviers)
Aaron Sorkin
Adam McKay
Adrien Brody
Agnes Oaks
Akiva Goldsman
Al Pacino
Alan Alda
Alan Arkin
Alan Ball
Alan Berry
Alec Baldwin
Alejandro González Iñárritu
Alessandra Ferri
Alex Lacamoire
Alexander Dinelaris Jr.
Alexander Payne
Alfonso Cuarón
Alfre Woodard
Alfred Uhry
Ali MacGraw
Alice Ripley
America Ferrera
Amy Adams
Amy Poehler
Andra Day
Andrew Garfield
Andy Blankenbuehler
Andy Samberg
Ang Lee
Angela Bassett
Angelina Jolie
Angie Dickinson
Ann Jillian
Ann-Margret
Anna Deavere Smith
Anna Maria Alberghetti
Anna Paquin
Annette Bening
Anouk Aimée
Anthony Edwards
Anthony LaPaglia
Ariel Dorfman
Armando Bo
Audra McDonald
August Eriksmoen
Ava DuVernay
Awkwafina
Aziz Ansari
Barbara Hershey
Barbra Streisand
Barry Bostwick
Barry Jenkins
Barry Levinson
Barry Morrow
Bartlett Sher
Baz Luhrmann
Beau Bridges
Bebe Neuwirth
Ben Affleck
Ben Harney
Ben Platt
Ben Vereen
Benj Pasek
Bernadette Peters
Bernard Haitink
Bette Midler
Bill Condon
Bill Cosby
Bill Irwin
Bill Murray
Bill T. Jones
Billy Bob Thornton
Billy Porter
Bo Goldman
Bobby Moresco
Bong Joon-ho
Boyd Gaines
Brian Currie
Brian Helgeland
Brian Stokes Mitchell
Brie Larson
Bruce Joel Rubin
Bruce Norris
Bruce Willis
Bryan Cranston
Bryan Hymel
Calista Flockhart
Callie Khouri
Cameron Crowe
Candice Bergen
Carol Burnett
Casey Affleck
Casey Nicholaw
Cate Blanchett
Catherine O'Hara,
Chaim Topol
Charles Augins
Charles Randolph
Charlie Kaufman
Charlie Wachtel
Charlize Theron
Cher
Cherry Jones
Chita Rivera
Chloé Zhao
Chris Terrio
Christian Gerhaher
Christine Ebersole
Christine Lahti
Christopher Ashley
Christopher Durang
Christopher Gattelli
Christopher McQuarrie
Claire Danes
Claude Lelouch
Claudio Miranda
Clint Eastwood
Colin Farrell
Costa-Gavras
Cristina Gallardo-Domas
Crystal Pite
Cybill Shepherd
Cynthia Nixon
Dabney Coleman
Damien Chazelle
Daniel Day-Lewis
Daniel J. Sullivan
Daniel J. Travanti
Daniela Barcellona
Darko Tresnjak
Darren Criss
David Alvarez
David Atkins
David Auburn
David Caruso
David Cromer
David Duchovny
David Fincher
David Hein
David Henry Hwang
David Hyde Pierce
David Mamet
David Rabe
David Rabinowitz
David S. Ward
Dean Semler
Deanna Dunagan
Debbie Allen
Deborah Colker
Dein Perry
Denise Gough
Dennis Franz
Denzel Washington
Des McAnuff
Diablo Cody
Diana Ossana
Diane Keaton
Diane Paulus
Dion Beebe
Don Cheadle
Don Johnson
Donald Glover
Donna McKechnie
Donna Murphy
Doug Hughes
Doug Wright
Drew Barrymore
Dustin Hoffman
Dustin Lance Black
Dylan McDermott
Ed Asner
Edie Falco
Elaine May
Elisabeth Moss
Ellen Burstyn
Ellen DeGeneres
Emma Stone
Emmanuel Lubezki
Eric Roth
Erik Messerschmidt
Ernest Thompson
Ethan Coen
F. Murray Abraham
Faith Prince
Faye Dunaway
Felicity Huffman
Fiona Shaw
Florian Zeller
Forest Whitaker
Fran Walsh
Frances Conroy
Frances McDormand
Francesca Velicu
Francis Ford Coppola
Frank Galati
Frank Langella
Frederic Raphael
Gabriel Byrne
Gael García Bernal
Garry Hynes
Garth Fagan
Gary Sinise
Geena Davis
Gena Rowlands
Gene Hackman
Geoffrey Rush
Geoffrey S. Fletcher
George C. Wolfe
George Clooney
George Faison
George Hearn
Gérard Depardieu
Gillian Anderson
Gina Rodriguez
Glen Hansard
Glenn Close
Graham Moore
Guillermo del Toro
Guillermo Navarro
Gwyneth Paltrow
Hal Linden
Halle Berry
Han Jin-won
Harold Wheeler
Harrison Ford
Harvey Fierstein
Heather Headley
Helen Gallagher
Helen Hunt
Henry Winkler
Hilary Swank
Holly Hunter
Hugh Jackman
Ian Eisendrath
Idina Menzel
Irene Sankoff
Isabelle Huppert
Ivo van Hove
J. T. Rogers
Jack Nicholson
Jack O'Brien
James Cameron
James Earl Jones
James Franco
James Ivory
James L. Brooks
James Naughton
James Woods
Jamie Foxx
Jamie Lee Curtis
Jane Campion
Jane Fonda
Janusz Kamiński
Jason Alexander
Jason Bateman
Jason Reitman
Jason Sudeikis
Javier de Frutos
Jean Dujardin
Jeff Bridges
Jefferson Mays
Jeffrey Tambor
Jenna Elfman
Jennifer Aniston
Jennifer Garner
Jennifer Holliday
Jennifer Lawrence
Jennifer Tipton
Jeremy Irons
Jeremy Larner
Jerry Mitchell
Jerry Seinfeld
Jerry Zaks
Jessica Chastain
Jessica Lange
Jessie Mueller
Jill Eikenberry
Jim Carrey
Jim Parsons
Jim Rash
Jim Taylor
Jimmy Smits
Jirí Kylián
Joan Allen
Joanna Cassidy
Joanna Gleason
Joanne Woodward
Joaquin Phoenix
Jodie Foster
Joe Mantello
Joel Coen
John Cullum
John Goodman
John Irving
John Kani
John Lithgow
John Lloyd Young
John Logan
John Patrick Shanley
John Rando
John Ridley
John Rubinstein
John Seale
John Toll
John Travolta
Johnny Depp
Jon Hamm
Jon Voight
Jonathan Rhys Meyers
Jordan Peele
Joseph Hardy
Josh Singer
Joyce DiDonato
Judd Hirsch
Judy Davis
Julia Roberts
Julian Schnabel
Julianna Margulies
Julianne Moore
Julie Sommars
Julie Taymor
Julie White
Justin Paul
Justin Peck
Katey Sagal
Katharine Ross
Kathleen Marshall
Kathleen Turner
Kathryn Bigelow
Kathy Baker
Kathy Bates
Katori Hall
Katrina Lenk
Kelli O'Hara
Kelly Devine
Kelsey Grammer
Ken Wahl
Kenny Leon
Keri Russell
Kevin Bacon
Kevin Costner
Kevin Kline
Kevin Spacey
Kevin Willmott
Kiefer Sutherland
Kiril Kulish
Kirstie Alley
Kris Kristofferson
Kyle MacLachlan
Kyle Soller
Kyra Sedgwick
LaChanze
Larry Karaszewski
Laura Dern
Laura Linney
Laurie Metcalf
Lea Salonga
Len Cariou
Lena Dunham
Leonardo DiCaprio
Leontina Vaduva
Lesley Ann Warren
Leslie Caron
Leslie Odom Jr.
Leslie Uggams
Lily Tomlin
Lin-Manuel Miranda
Linda Evans
Linda Lavin
Linus Sandgren
Liv Ullmann
Louise Fletcher
Maggie Gyllenhaal
Marc Norman
Marcia Gay Harden
Marie Mullen
Marion Cotillard
Mariska Hargitay
Marissa Jaret Winokur
Mark Boal
Mark Morris
Mark Ruffalo
Markéta Irglová
Marlee Matlin
Marlo Thomas
Marsha Mason
Marshall Brickman
Marshall W. Mason
Martin Scorsese
Martin Sheen
Martin Short
Mary Zimmerman
Mary-Louise Parker
Maryann Plunkett
Matt Damon
Matt LeBlanc
Matthew Broderick
Matthew Lopez
Matthew McConaughey
Mauro Fiore
Mel Brooks
Mel Gibson
Melanie Griffith
Mercedes Ruehl
Meryl Streep
Michael Arndt
Michael Blakemore
Michael C. Hall
Michael Cerveris
Michael Chiklis
Michael Cristofer
Michael Douglas
Michael J. Fox
Michael Keaton
Michael Mayer
Michael Moriarty
Michel Gondry
Michel Hazanavicius
Michelle Pfeiffer
Michelle Williams
Mickey Rourke
Morgan Freeman
Nancy Dowd
Naomi Foner
Nat Faxon
Natalia Makarova
Natalie Dessay
Natalie Portman
Nathan Lane
Neil Jordan
Neil Patrick Harris
Nick Nolte
Nick Vallelonga
Nicolas Cage
Nicolás Giacobone
Nicole Kidman
Nina Arianda
Nina Stemme
Norbert Leo Butz
Norman Lear
Oliver Stone
Oprah Winfrey
Oscar Isaac
Pam MacKinnon
Pamela Wallace
Patina Miller
Patricia Arquette
Patricia Wettig
Patti LuPone
Paul Gemignani
Paul Giamatti
Paul Haggis
Paul Hogan
Paulo Szot
Pedro Almodóvar
Peter Farrelly
Peter Jackson
Peter Morgan
Peter Pau
Peter Schaufuss
Peter Sellars
Peter Weir
Philippa Boyens
Philippe Rousselot
Phylicia Rashad
Pierre Bismuth
Pierre Uytterhoeven
Queen Latifah
Quentin Tarantino
Rachel Bloom
Rachel Brosnahan
Rachel Chavkin
Rami Malek
Ramy Youssef
Randy Quaid
Raquel Welch
Rebecca Taichman
Reese Witherspoon
Regina Taylor
Renée Zellweger
Richard Chamberlain
Richard Dreyfuss
Richard Gere
Richard Greenberg
Richard Linklater
Richard Maltby Jr.
Richard Nelson
Rob Ashford
Robert Benton
Robert Blake
Robert De Niro
Robert Downey Jr.
Robert Duvall
Robert Elswit
Robert Falls
Robert Morse
Robert Redford
Robert Richardson
Robert Schenkkan
Robert Towne
Robert Wilson
Robert Zemeckis
Roberto Alagna
Roberto Benigni
Robin Wright
Robyn Orlin
Roger Avary
Roman Polanski
Ron Howard
Ron Kovic
Ron Perlman
Ronald Bass
Roseanne Barr
Russell Boyd
Russell Carpenter
Russell Crowe
Ryan Gosling
S. Epatha Merkerson
Sacha Baron Cohen
Sally Field
Sally Kirkland
Sam Waterston
Sandra Bullock
Sandra Oh
Santino Fontana
Saoirse Ronan
Sarah Jessica Parker
Sarah Paulson
Savion Glover
Scarlett Johansson
Scott Alexander
Scott Bakula
Sean Penn
Sela Ward
Sergio Trujillo
Sharon Gless
Sharon Stone
Sheldon Turner
Shirley MacLaine
Sidney Poitier
Simon Beaufoy
Sissy Spacek
Sofia Coppola
Sophia Loren
Spike Jonze
Spike Lee
Stacy Keach
Stanley Tucci
Stephanie J. Block
Stephen Gaghan
Stephen Karam
Stephen Spinella
Sterling K. Brown
Steve Buscemi
Steve Carell
Steve Kazee
Steven Soderbergh
Steven Spielberg
Steven Zaillian
Stockard Channing
Susan Sarandon
Susan Stroman
Sutton Foster
Suzan-Lori Parks
Taika Waititi
Taina Elg
Taraji Henson
Tarell Alvin McCraney
Ted Danson
Ted Tally
Teri Hatcher
Thomas Edur
Thomas Kail
Tim Allen
Tim Robbins
Tina Fey
Tom Cruise
Tom Hanks
Tom McCarthy
Tom Schulman
Tom Selleck
Tommy Tune
Toni Collette
Tony Kushner
Tony Shalhoub
Tracee Ellis Ross,
Tracy Letts
Trent Kowalik
Trey Parker
Twyla Tharp
Tyne Daly
Uma Thurman
Victoria Clark
Ving Rhames
Viola Davis
Vittorio Storaro
Wally Pfister
Walter Bobbie
Walter Mirisch
Warren Beatty
Warren Leight
Wayne Cilento
Whoopi Goldberg
William Forsythe
William Friedkin
William Hurt
William Monahan
Wim Wenders
Woody Allen
Yasmina Reza
Yoko Morishita
Yoko Shimada
Dance (Critics' Circle, Bessies)
Agnes Oaks
Alessandra Ferri
Alina Cojocaru
Amar Ramasar
Annique Roberts
Bijayini Satpathy
Burr Johnson
Charles "Lil Buck" Riley
Chase Johnsey
Courtney Cook
Dane Hurst
Daria Klimentová
Dormeshia Sumbry-Edwards
Elizabeth Dement
Elizabeth LeCompte
Emily Pope
Ephrat Asherie
Gabrielle Hamilton
Germaine Acogny
Herman Cornejo
Honji Wang
Hu Shenyuan
Huwer Anthony Marche Jr. ("King Havoc")
Ivan Vasiliev
Jamar Roberts
Jaro Viňarský
Johan Kobborg
Kazunori Kumagal
Lauren Grant
Leanne Benjamin
Leslie Cuyjet
Linda Celeste Sims
Marcelino Sambé
Marianela Nuñez
Melissa Toogood
Molly Lieber
Myssi Robinson
Natalia Osipova
Nicole Mannarino
Oluwadamilare Ayorinde
Omagbitse Omagbemi
Omari Wiles
Rebecca Serrell Cyr
Ron "Prime Tyme" Myles
Ryoji Sasamoto
Sara Mearns
Sebastien Ramirez
Shamar Watt
Shannon Nash
Shantala Shivalingappa
Silas Riener
Steven McRae
Stuart Singer
Tamara Rojo
Taylor Stanley
Thomas Edur
Vadim Muntagirov
Wataru Kitao
Zenaida Yanowsky
Music (Grammys, Womex, Wihuri Sibelius Prize, ICMA, Brit Awards, bands are marked with *)
Abdul "Duke" Fakir
Ahmad Jamal
Al Green
Andreas Staier
Ariana Grande
Art Garfunkel
Beck
Beyoncé
Billie Eilish
Björk
Blackstreet*
Bob Dylan
Booker T. Jones
Brenda Lee
Bruno Mars
Buddy Guy
Burna Boy
Burt Bacharach
Carole King
Carolin Widmann
CeeLo Green
Charles Dutoit
Chicago*
Chris Brown
Chris Frantz
Christian Lindberg
Christian Tetzlaff
Chuck D
Danny Seraphine
Darryl McDaniels
Dickey Betts
Dionne Warwick
DJ Spinderella (Deidra Roper)
Dmitri Kitayenko
Dolly Parton
Drake
Earth, Wind & Fire*
Edita Gruberova
Elisabeth Leonskaja
Ella Jenkins
Eminem
Emmylou Harris
Esa-Pekka Salonen
Flaco Jiménez
Flavor Flav
Frank Ocean
Fugees*
George Clinton
Grandmaster Flash and the Furious Five*
Gustavo Dudamel
Gwen Stefani
Harry Belafonte
Herbie Hancock
Iggy Pop
Itzhak Perlman
Jai Johanny "Jaimoe" Johanson
James Pankow
Javier Perianes
Jay-Z
Jean-Efflam Bavouzet
Jefferson Airplane*
Jerry Harrison
Jerry Lee Lewis
Joan Baez
John Densmore
Johnny Mathis
Jon Bon Jovi
Joni Mitchell
José van Dam
Joseph Simmons
Julio Iglesias
Justin Bieber
Justin Timberlake
k.d. lang
Kanye West
Katy Perry
Kendrick Lamar
Kraftwerk*
Kylie Minogue
Lady Gaga
Lana Del Rey
Lauryn Hill
Lee Loughnane
Lenny Kravitz
Leontyne Price
Linda Ronstadt
Lorde
Loretta Lynn
Macy Gray
Madonna
Manfred Honeck
Marilyn Horne
Marina Rebeka
Matti Salminen
Menahem Pressler
Meredith Monk
Moe Tucker
Natalie Imbruglia
Neil Diamond
Nelly Furtado
Nelson Freire
Nicki Minaj
Otis Williams
Pablo Heras-Casado
Parliament-Funkadelic*
Paul Simon
Pepa (Sandra Denton)
Peter Cetera
Pharrell Williams
Pink
Public Enemy*
Puff Daddy and the Family*
Ramones*
Rihanna
Robby Krieger
Robert Lamm
Roberta Flack
Roy Haynes
Salt (Cheryl James)
Shaggy
Sheryl Crow
Shirley Caesar
Sinéad O'Connor
Sly Stone
Smokey Robinson
Sonny Rollins
Steve Cropper
Stevie Wonder
Tabea Zimmermann
Taylor Swift
The Band*
The Beach Boys*
The Blind Boys of Alabama*
The Grateful Dead*
The Isley Brothers*
The Kingston Trio*
The Meters*
The Staple Singers*
Tina Turner
Tina Weymouth
Tracy Chapman
Tyler, the Creator
Walter Parazaider
Wayne Shorter
Willie Nelson
Wizkid
Architecture (Pritzker Prize, Royal Gold Medal)
Alejandro Aravena
Álvaro Siza Vieira
Anne Lacaton
Arata Isozaki
B. V. Doshi
Carme Pigem
Christian de Portzamparc
Eduardo Souto de Moura
Frank Gehry
Fumihiko Maki
Glenn Murcutt
Gottfried Böhm
Herman Hertzberger
Jacques Herzog
Jean Nouvel
Jean-Philippe Vassal
John Tuomey
Kazuyo Sejima
Maya Lin
Paulo Mendes da Rocha
Peter Zumthor
Pierre de Meuron
Rafael Aranda
Rafael Moneo
Ramón Vilalta
Rem Koolhaas
Renzo Piano
Richard Meier
Ryue Nishizawa
Sheila O'Donnell
Shelley McNamara
Shigeru Ban
Tadao Ando
Thom Mayne
Toyo Ito
Walter Hood
Wang Shu
Yvonne Farrell
Fashion (Fashion Awards)
Giorgio Armani
Pierpaolo Piccioli
Demna Gvasalia
Miuccia Prada
Raf Simons
Ralph Lauren
Manolo Blahnik
Rifat Ozbek
Visual Arts (Hugo Boss Prize)
Anicka Yi
Deana Lawson
Douglas Gordon
Emily Jacir
Hans-Peter Feldmann
Laurie Anderson
Marjetica Potrč
Matthew Barney
Paul Chan
Pierre Huyghe
Rirkrit Tiravanija
Shirin Neshat
Simone Leigh
Technology & Scholarship (ACM Prize in Computing; Charles Stark Draper Prize for Engineering; Queen Elizabeth Prize for Engineering; Turing Award; Fields medal; Millennium, Balzan, Fyssen, Holberg and Nobel prizes)
Aaron Ciechanover
Abhijit Banerjee
Ada Yonath
Adam G. Riess
Adi Shamir
Akira Suzuki
Akira Yoshino
Akshay Venkatesh
Alain Aspect
Alain Connes
Alan C. Kay
Alan J. Heeger
Albert Fert
Aleida Assmann
Alessio Figalli
Alexei A. Efros
Alfred Aho
Alice Munro
Alvin E. Roth
Amartya Sen
Amotz Zahavi
André Vauchez
Andrea M. Ghez
Andrei Okounkov
Andrew Fire
Andrew J. Viterbi
Andrew Schally
Andrew Yao
Anthony Grafton
Anthony James Leggett
Antonio Augusto Cançado Trindade
Arieh Warshel
Arno Allan Penzias
Arthur B. McDonald
Artur Avila
Avram Hershko
Aziz Sancar
Barbara Liskov
Barry Barish
Barry Marshall
Ben Feringa
Ben Roy Mottelson
Bengt I. Samuelsson
Bengt R. Holmström
Bert Sakmann
Bjarne Stroustrup
Bob Kahn
Bradford Parkinson
Brent Berlin
Brian K. Kobilka
Brian Schmidt
Bruce A. Beutler
Bruno Latour
Butler W. Lampson
C. Grant Willson
Carl Wieman
Carlo Ginzburg
Carlo Rubbia
Carol W. Greider
Cass Sunstein
Caucher Birkar
Cédric Villani
Charles Fefferman
Charles M. Rice
Chris Frith
Christiane Nüsslein-Volhard
Christopher A. Pissarides
Christopher A. Sims
Christopher R. Somerville
Claude Cohen-Tannoudji
Claude Lorius
Craig Mello
Curtis T. McMullen
Dan Boneh
Dan Shechtman
Dana Scott
Daniel C. Tsui
Daniel Kahneman
Daniel McFadden
Daphne Koller
David Baltimore
David Blei
David Gross
David J. Wineland
David Karl
David Lee
David Mumford
David Patterson
David Pilbeam
David Silver
David Trimble
Dennis Sullivan
Detlef Lohse
Didier Queloz
Dina Katabi
Don H. Schoessler
Donald Knuth
Donna Strickland
Douglas Osheroff
Dudley R. Herschbach
E. Allen Emerson
Edmond H. Fischer
Edmund Phelps
Edvard Moser
Edward A. Miller
Edward C. Prescott
Edward Feigenbaum
Edward Witten
Edwin Catmull
Efim Zelmanov
Ei-ichi Negishi
Elfriede Jelinek
Elias James Corey
Elizabeth Blackburn
Elliott M. Meyerowitz
Elon Lindenstrauss
Emmanuelle Charpentier
Enrico Bombieri
Eric A. Brewer
Eric Allin Cornell
Eric Betzig
Eric F. Wieschaus
Eric Fossum
Eric Kandel
Eric Maskin
Erika von Mutius
Erwin Neher
Esther Duflo
Eugene F. Fama
Eva Kondorosi
Federico Capasso
Ferid Murad
Finn E. Kydland
Frances Arnold
Francis Halzen
Francis J. Madden
François Englert
Françoise Barré-Sinoussi
Frank Wilczek
Frans Kaashoek
Fred Gage
Frederick P. Brooks
Fredric Jameson
G. David Tilman
Gao Xingjian
Geoffrey Lloyd
George Akerlof
George E. Smith
George P. Smith
George Smoot
Gerard 't Hooft
Gérard Mourou
Gerd Binnig
Gerd Faltings
Gerhard Ertl
Gregg L. Semenza
Grigori Margulis
Griselda Pollock
H. Robert Horvitz
Hamilton O. Smith
Hans Belting
Harald zur Hausen
Harold E. Varmus
Harry Markowitz
Hartmut Michel
Harvey J. Alter
Heisuke Hironaka
Hélène Roche
Herbert Kroemer
Herta Müller
Hideki Shirakawa
Hiroshi Amano
Ho-kwang (David) Mao
Horst Ludwig Störmer
Hugh David Politzer
Hugo FrueHauf
Ian Hacking
Ian Hodder
Isabel Allende
Ivan Sutherland
Ivar Giaever
J. M. Coetzee
J. M. G. Le Clézio
J. Michael Bishop
Jack W. Szostak
Jacob Palis
Jacques Aumont
Jacques Dubochet
James E. Rothman
James Heckman
James P. Allison
James Peebles
James W. Plummer
Jan Assmann
Jean Fréchet
Jean Tirole
Jean-Marie Lehn
Jean-Marie Tarascon
Jean-Pierre Changeux
Jean-Pierre Sauvage
Jean-Pierre Serre
Jeffrey C. Hall
Jeffrey Dean
Jeffrey Ullman
Jennifer Doudna
Jerome Isaac Friedman
Joachim Frank
Joan Martinez Alier
Joaquin Fuster
Joël Fagot
Joel Mokyr
Joel S. Engel
Johann Deisenhofer
Johannes Georg Bednorz
John B. Goodenough
John B. MacChesney
John C. Mather
John G. Thompson
John Hopcroft
John L. Hall
John L. Hennessy
John Milnor
John Polanyi
Jon Kleinberg
Joseph E. LeDoux
Joseph Hooton Taylor, Jr.
Joseph L. Goldstein
Joseph Sifakis
Joseph Stiglitz
Judea Pearl
Jules A. Hoffmann
Julia Kristeva
Jürgen Habermas
Jürgen Kocka
Jürgen Osterhammel
Juris Hartmanis
Karl Alexander Müller
Karl Barry Sharpless
Ken Thompson
Kenzaburō Ōe
Kip Thorne
Klaus F. Rabe
Klaus von Klitzing
Koichi Tanaka
Kurt Lambeck
Kurt Wüthrich
Lars Peter Hansen
Laurent Lafforgue
Leland H. Hartwell
Leo Esaki
Leon Cooper
Leonard Adleman
Leonard Kleinrock
Leslie Lamport
Lila R. Gleitman
Linda B. Buck
Linus Torvalds
Lothar Gall
Lothar Ledderose
Louis Ignarro
Louis Pouzin
Louise Glück
Luc Montagnier
Luigi Ambrosio
M. George Craford
Makoto Kobayashi
Manfred Brauneck
Manjul Bhargava
Manuel Blum
Manuel Castells Oliván
Marc Andreessen
Mario Capecchi
Mario Vargas Llosa
Martha Nussbaum
Martin Chalfie
Martin Cooper
Martin Hellman
Martin Karplus
Martin Schadt
Maurizio Calvesi
Maxim Kontsevich
May-Britt Moser
Michael Freedman
Michaël Gillon
Michael Grätzel
Michael I. Posner
Michael Kremer
Michael Levitt
Michael O. Rabin
Michael Rosbash
Michael Spence
Michael Stonebraker
Michael Stuart Brown
Michael Tomasello
Michael W. Young
Michel G.E. Mayor
Michel Zink
Mikhail Gromov
Minoru S. "Sam" Araki
Mo Yan
Myron Scholes
Natalie Zemon Davis
Ngô Bảo Châu
Nick Holonyak
Nikki R. Keddie
Niklaus Wirth
Nobukazu Teranishi
Olga Tokarczuk
Orhan Pamuk
Paolo de Bernardis
Paolo Rossi Monti
Pascale Cossart
Pasko Rakic
Pat Hanrahan
Patrick Modiano
Paul Berg
Paul Krugman
Paul L. Modrich
Paul R. Milgrom
Paul Romer
Peter A. Diamond
Peter Agre
Peter Brown
Peter C. Doherty
Peter Handke
Peter J. Ratcliffe
Peter Scholze
Phillip Allen Sharp
Piero Boitani
Pierre Deligne
Pierre-Louis Lions
Rachid Yazami
Rainer Weiss
Raj Reddy
Randy W. Schekman
Reinhard Genzel
Reinhard Jahn
Reinhard Strohm
Renée Baillargeon
Richard Axel
Richard E. Stearns
Richard H. Frenkiel
Richard J. Roberts
Richard M. Karp
Richard R. Ernst
Richard R. Schrock
Richard Schwartz
Richard Thaler
Roald Hoffmann
Robert Aumann
Robert B. Laughlin
Robert B. Wilson
Robert C. Merton
Robert D. Maurer
Robert D. Schreiber
Robert E. Kahn
Robert F. Curl Jr.
Robert F. Engle
Robert H. Dennard
Robert H. Grubbs
Robert Huber
Robert J. Lefkowitz
Robert J. Shiller
Robert Kahn
Robert Keohane
Robert Langer
Robert Lucas, Jr.
Robert Solow
Robert Tarjan
Robert Woodrow Wilson
Robin Warren
Roderick MacKinnon
Roger D. Kornberg
Roger Guillemin
Roger Lemon
Roger Myerson
Rolf M. Zinkernagel
Ron Rivest
Rudolph A. Marcus
Russell Alan Hulse
Russell Dupuis
Russell J. Hemley
Ryōji Noyori
Samuel C. C. Ting
Sanjay Ghemawat
Sanjeev Arora
Satoshi Ōmura
Saul Perlmutter
Scott Aaronson
Serge Haroche
Sergei Novikov
Shafi Goldwasser
Sheldon Lee Glashow
Shigefumi Mori
Shing-Tung Yau
Shinya Yamanaka
Shuji Nakamura
Shwetak Patel
Sidney Altman
Silvia Arber
Silvio Micali
Simha Arom
Simon Donaldson
Stanislav Smirnov
Stanley B. Prusiner
Stefan Hell
Stefan Savage
Stephen Cook
Stephen Greenblatt
Stephen Smale
Steven Chu
Steven Weinberg
Sumio Iijima
Susan Trumbore
Susumu Tonegawa
Svetlana Alexievich
Takaaki Kajita
Tasuku Honjo
Terence Tao
Theodor W. Hänsch
Thomas C. Südhof
Thomas Cech
Thomas Haug
Thomas J. Sargent
Thomas Nagel
Timothy Gowers
Tobias Welte
Torsten Wiesel
Toshihide Maskawa
Tu Youyou
Tuomo Suntola
Venkatraman Ramakrishnan
Vernon L. Smith
Vint Cerf
Vladimir Drinfeld
Walter Gilbert
Wen-Hsiung Li
Wendelin Werner
Werner Arber
Werner Seeger
Whitfield Diffie
William C. Campbell
William Daniel Phillips
William F. Sharpe
William Kaelin Jr.
William Kahan
William Moerner
William Nordhaus
Wole Soyinka
Wolfgang Helfrich
Wolfgang Ketterle
Xavier Le Pichon
Yann LeCun
Yoshihisa Okumura
Yoshinori Ohsumi
Yoshio Nishi
Yoshua Bengio
Yuan T. Lee