Who are the real nomads? | Borderline (redux) #18
Welcome to season 4 of the podcast and a revamped newsletter.
⏱ This is a 6-minute read.
Welcome to a new season of Borderline! I am thrilled to be back in your ears and in your inbox. It was an odd summer. I attempted holidays, though never with the weather to match. I saw my family then saw the inside of my flat again for my fourth quarantine. There were no long, warm nights, no cicadas, no coconut-scented sunscreen. Oh well, I always liked September better. Clean notebooks, pencil shavings and pumpkin spice. That's my happy. And that's where Borderline gets made.
Without fanfare, I passed my five-year anniversary in London, marking the longest I've lived anywhere since I was 15 years old. The itch is there sometimes. I know it well. It tells me to move again, to make another home, to "create for myself another place to miss" as I wrote my friends when I moved to Sydney. I can see it: a small house with rose bushes, a herb garden and an orchard. A writing desk by a window looking over an old tree, a kitchen straight from a Nancy Meyers film and a recording studio in the pantry. It's a walk to the forest, a bike ride to a café and bookshop, a drive to an international airport and a train ride to a decent city. (Any estate agent reading?) I just don't know what country it's in.
How we make a home and build community, how we connect to the land and to one another, how we belong everywhere and somewhere, those questions are at the  heart of Borderline this season and very much at the heart of our first episode, a conversation with Felix Marquardt. We'll take the 10,000-foot view of nationalism, inequality and climate, as well as the close-up at individual global lives. As always, your feedback and ideas are more than welcome. Thank you for joining me on this exploration. I hope you make a home here too.
"The nomad is connected to place. If you forget the pasture, you're not really a nomad."
- Felix Marquardt
---
EXPLORATIONS
The ideas on my mind and on borderlinepod.com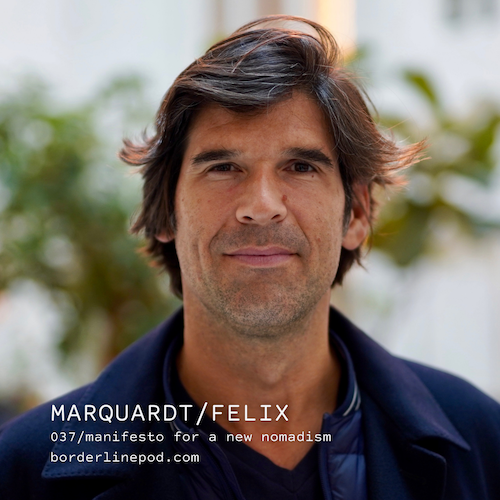 🎧 Listen to the first episode of the new season, an in-depth conversation about belonging, climate, addiction, the lessons of indigenous cultures and why we've been thinking about nomadism all wrong, with author and recovering "global schmoozer" Felix Marquardt.
"The two most important moments in our lives are the moment when we leave home because it teaches us so much about who we are, and (the moment when) eventually we have to settle down, grow roots and begin to not just wander, but become part of a place."
📺 What is fair pay in a work-from-anywhere world? Lauren Razavi and I explored the themes of my August essay in a livestream session yesterday. It'll be on the podcast stream eventually but you can watch it here.
🤑 You can now donate to Borderline. A membership is the best way to support this work, but if you want to do more, who am I to stop you? You can donate in GBP, USD or EUR. $15 hosts the podcast for a month. $40 pays for the site and membership platform. $5 keeps me caffeinated. All is appreciated.
🌐 But seriously, first get a membership. Members get the podcast early, access to a private Discord server, exclusive content, full business transparency, a shoutout on the pod and generally access and discounts to everything I do. They're also my favourite people. All for just £5 a month or £50 a year. (If you'd rather pay in another currency, make a donation above €60 or $70 and I'll comp you an annual membership.) Welcome to Lauren Razavi, John Abell and Lorenzo C Zancan.
📬 You'll get this revamped newsletter every Thursday. It's designed to be scanned, with the good stuff in bold. The first half is updates from Borderline, the second is news and ideas gleaned elsewhere. You'll also receive my better essays via email, but most articles will simply be linked to in the newsletter. The idea is to not inundate your inboxes every time I publish. Just on Thursdays.  
---
HAPPENINGS
Long trends that matter and news under the radar, in brief
🇲🇬 Madagascar is experiencing famine. Climate change is the clear main cause on this one, not conflict. (source)
💉 Covax cut its forecast for vaccine doses available to poor nations in 2021 by 25% and the WHO head called for a moratorium on booster shots until the end of the year. He will be ignored. (source)
🇦🇺 The Delta variant is doing what solidarity with expats could not: Australia is ending its zero-covid policy and opening the door to eventually somewhat loosening travel restrictions. Just a smidgen. (source)
🇷🇺 The pandemic's worst-affected country is... Russia. Officially 185,000 Russians have died, but looking at excess deaths in statistics, it's actually closer to 600,000. (There has been ridiculously little coverage so my source is in French.)
🇬🇧🇫🇷 The British Home Office wants to give France OKRs for intercepting migrant boats in the Channel. That's gone over well... (source)
🇮🇪 Ireland is offering unauthorized migrants an amnesty and introducing a plan to regularize an estimated 17,000 people. I wasn't gonna give you just bad news. (source, h/t Agata)
WANDERINGS
Reading recommendations and slower observations
🗳 "There is no good reason you should have to be a citizen to vote." Atossa Araxia Abrahamian makes a powerful case in the New York Times for separating the franchise from citizenship.
"It would make much more sense to make residents provide proof of voter registration as a requirement for naturalization, rather than the other way around."
⚖️ "The reason we should care about refugees is because they are people." Every article – here Jerusalem Demsas for Vox – making the economic case for immigration starts with some version of this sentence: 'It's the right thing to do but in case that's not enough to convince you heartless bastards, here are some arguments.' But when you argue a moral case cannot stand on its own, you weaken it. The maths can change. We won't always have jobs that need filling by refugees. What's right, however, will remain right.
✈️ "There is only one way, which is to move forward." Entrepreneur Kunal Gupta explains why he decided to pick up and move from Canada to Portugal. Yes, this is full of privilege but I like the way he articulates a strategy I've often used in life – the one-way ticket.
It reflects both a physical movement to a new place, and also a mindset to commit emotionally to wherever, whatever and whomever. It is a choice to not look back, to not test the waters, to not carry any regret.
---
🫖 PS: Twitter voted. The Borderline style guide now calls for British spelling. I am going to mess this up so bad...
Hey, you read to the end!
Don't miss future articles like this one; let me into your inbox.
---